LES FUNÉRAILLES DE LA BALEINE (PERFORMANCE)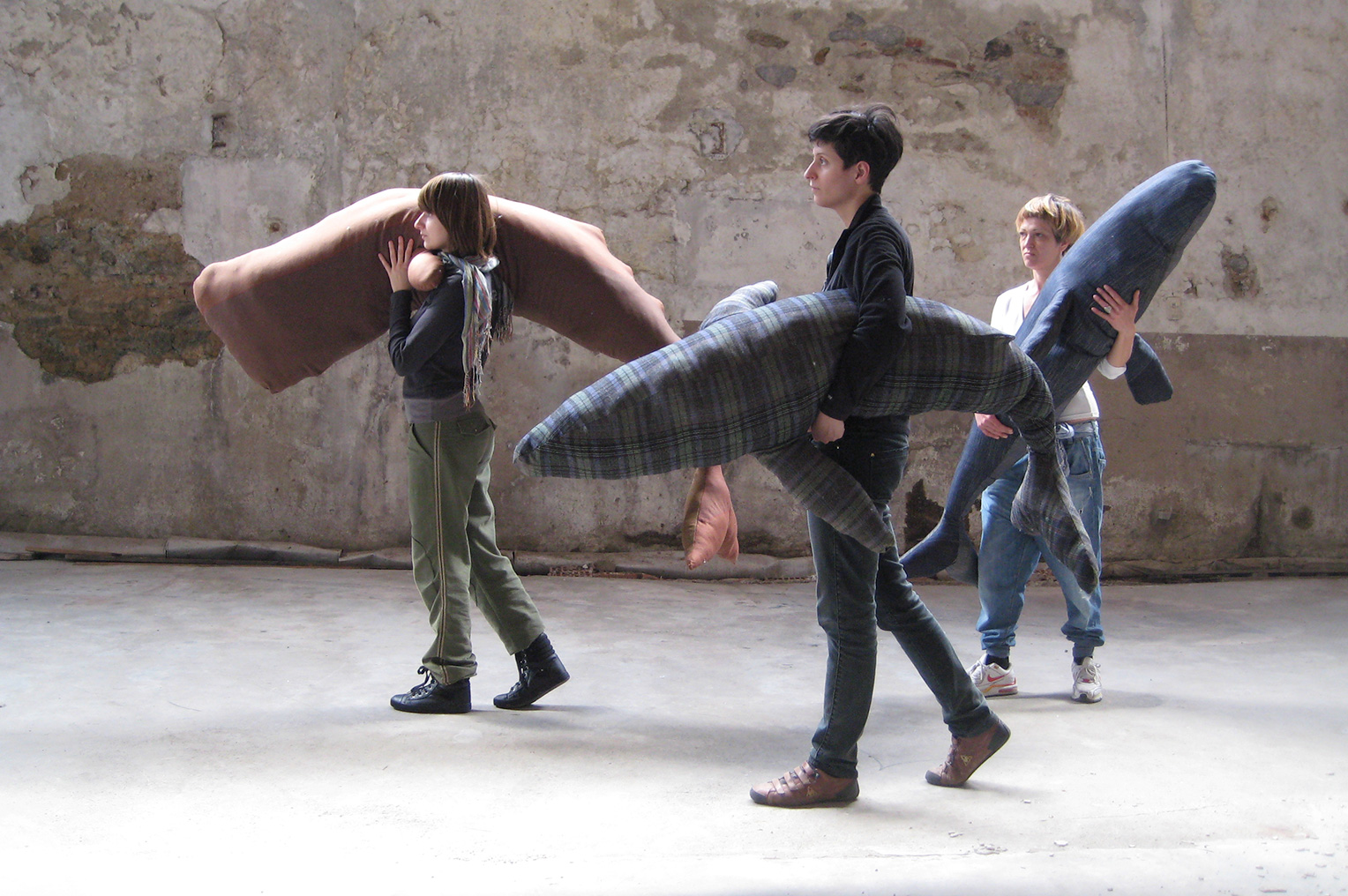 Photo: Daniela Morreale, Francesca Dainotto
Les Funérailles de la Baleine performance tells the tale of the collective ritual which accompanied the final stage of the Balena Project. The material stage of the project began in 2004 and came to a close in October 2010.
In October 2010, the Whale, this 'symbolic device' returned to the place where the fabric of which it was made was produced, and over the course of a 24-hour performance in the rooms of the ex-textile factory, this rite of passage was carried out. A 'funeral' of the whale's body, which was transformed into a variety of new objects/forms/thoughts: under the guidance of the stylist Antonio Marras, master seamsters used the fabric to create men's jackets lined with a material printed in the form of a magazine article describing the evolution of the project. Other whale-forms were created out of the mother whale's stuffing, as well as bags made from the inflatable air pockets inside her. As the conductor of the funeral band, the singer-songwriter Vinicio Capossela accompanied a part of the performance with as-of-then unpublished songs and readings.
Les Funérailles de la Baleine tells the story of that performance and that rite of passage which, with a sense of magic and symbolism, reflects the notion of the "ecology of art", according to which the work is not looked upon as a fixed and static object, but rather as a crossover point, one of shifts and changes both in terms of materials and sense.
Ladies and Gentlemen, Here comes the Whale! Or rather, the end of the Whale's tale… In 24 hours, in an ex wool-spinning factory near Biella in Northern Italy, its earthly coil will be unravelled in the very place in which it was conceived. Its definitive change of form and use will be presided over and accompanied by: Vinicio Capossela, a prophet with his feet on the ground, who will set his words to song astride the Whale's back; Antonio Marras, twine tamer, who will weave the world-weary Whale into words to be worn.